3D-LAB Project: Personalised Surgery Service
Descripció del projecte
Since 2012, personalised surgery has been used in the hospital's Maxillofacial Surgery, Neurosurgery and Traumatology departments for the treatment of complex pathologies such as tumours and deformities. Our implementation of the 3D-LAB project offers a comprehensive service under a common framework based on personalised surgery that allows for more precise and safer surgeries with more predictable results. This improves resource management and fosters research and innovation.
Personalised surgery techniques enable more efficient and safer surgeries, through the use of surgical devices and prostheses that are tailored for each patient. They provide geometrically complex structural reconstructions, using computer design and manufacturing techniques and CAD/CAM technology, which improve surgical precision and the quality of reconstructions while reducing the amount of time employed.
A personalised, comprehensive and digital service
This comprehensive personalised surgery service is offered through the Office for Surgical Planning and 3D Design (3D-LAB) at the Vall d'Hebron University Hospital. 
It is here that 3D prosthetics and implants are designed and the precision of the surgical technique used is evaluated. Only the 3D printing and production stage are outsourced.
To ensure an efficient, safe and high-quality implementation, the service combines new digital and 3-D printing technologies.
The next four years are expected to see this department treating some 660 patients, mostly for tumours, injuries, infections and congenital defects relating to the specialities of Maxillofacial Surgery and Neurosurgery as well as Traumatology and Orthopaedics, Spine Surgery and Rehabilitation, for patients requiring the amputation of a lower limb and subsequent distal load-bearing implants.
This project was launched in 2018 and will have been fully implemented by 2022. 
The 3D-LAB has been subsidised with funds from the ERDF.
Institucions del campus involucrades
General Hospital
Location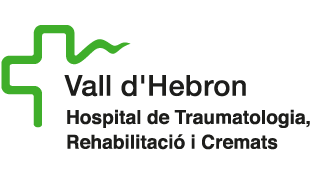 Traumatology, Rehabilitation and Burns Hospital
Location